At Manhattan Center for Kitchen and Bath, our process starts with you. Bring in your ideas and a rough measurement so we understand what size space we are working with. Next, we'll work with you and your budget in mind so that your project can stay on track, and on time. Basic planning, simple wants and needs are keys to a successful kitchen design. It is easy to become overwhelmed by the extensive selection of materials, and designer kitchen products on the market today.
Start with the basics, consider your space, and ask yourself these questions. What is the layout you are working with? Are you thinking of expanding? Are you staying with the current floor plan? What is your style? Contemporary or Traditional. What elements do you need in your kitchen and what elements do you want? Needs, take priority to wants so identifying them will save you time and trouble. Think about your likes and dislikes. Considering both will help you narrow the scope of options.
Above all, enjoy yourself. The kitchen is the heart of the home and its inspiration should come from there.
Kitchens come in many sizes but typically conform to four basic shapes; Island, U-shape, Galley, and L-shape.
Each shape has its own advantages and limitation, knowing your general shape provides an excellent starting point when working with a designer and or selecting cabinetry and appliances.
Regardless of shape or size you're working with, ideal kitchen designs should improve efficiency, provide uninterrupted workflow and maximize workspace and storage. Below is an overview of each.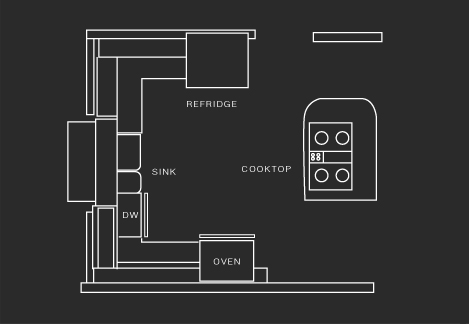 Island
Island kitchens are usually found in larger kitchens although smaller kitchens with connecting dining or family rooms can be converted into island kitchens. These kitchens are usually U-shape or L-shape with an Island in the middle. Islands in the past were usually made up of cabinets but many of today's islands contain cook tops, sinks and or under counter refrigeration.
U-Shape
U-shaped kitchens are ideal for people that use their kitchens frequently. In this kitchen shape, cabinets and appliances are arranged along 3 adjoining walls that form a U-shape. These kitchens are the most efficient and flexible and offer the most work-top and storage space. If a dining room or family room is connected, one part of the U can be converted into a peninsula or Island.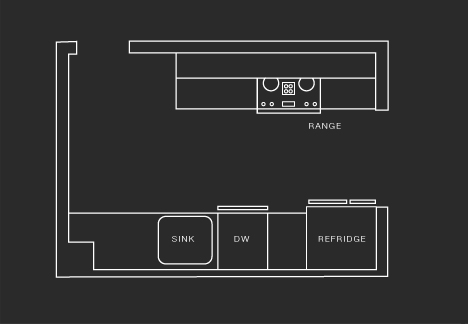 Galley
Galley kitchens make the best use of small spaces and are popular in Manhattan homes. These kitchens, also sometimes called Pullman or corridor kitchens typically consist of cabinets and appliances being situated along opposite facing walls. Space is usually limited in these kitchens so you'll want to plan for as much work-top space and creative storage solutions as possible.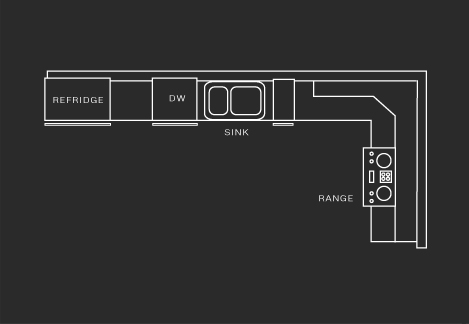 L-Shape
L-shape kitchens have a practical, flexible and open floor plan. All appliances are on 2 connecting walls that form an L-shape. What makes them so flexible is that appliances can be placed in a variety of locations while keeping work areas close to one another. The corner part of the L-shape creates a large area that is ideal for storage. L-shape kitchens can also be converted into U-shape or Island kitchens to provide a functional transition from one room to the next.