As you step foot into the MCKB showroom, you'll see that kitchens are the center of what we do, and rightfully so! After all, a new kitchen is a substantial investment, which is why it is our mission to provide you with the best service, quality products, and seamless process from beginning to end.
 Our Experts 
Our Kitchen and Bath experts have decades of experience within NYC and the surrounding neighborhoods. They are creative, courteous and most of all, great listeners. Their problem-solving skills are a key attribute that ensures your design is tailored to your taste and specific needs. We take the time you need and work with you every step of the way, as well as your designer and other contractors that are important to the successful creation and completion of your project. 
If you need Architect or Interior Design services beyond our capabilities, we will recommend agents that we have successful experience with. In addition, our in-house contracting service is available upon request. (insert link to SGC within MCKB website) 
First Step
If you haven't visited the showroom, this is your best first step! During this consultation, you will be given a one-on-one tour of a wide variety of fabulous kitchen displays, as well as any other relative products you may be interested in. Along with a full suite of kitchen products, Drimmers Appliances is an integral part of our showroom as well. While walk-ins are welcome, we recommend calling to schedule an appointment for a dedicated day/time with one of our friendly and knowledgeable designers. 
Discovery Discussion 
During our initial consultation, you'll let us know if you are remodeling or fully renovating. 
Remodel  
Generally, a remodel consists of maintaining the original shape/walls of a room, though minor wall alterations may be possible. A kitchen remodel typically includes removal and replacement of cabinetry, countertops, sink/faucet and relative mechanical/plumbing work. Other elements may include flooring, appliances, task/ambient lighting, and light fixtures. Finally, a fresh coat of paint polishes off the new space!  
Renovation 
A renovation is more intense and typically affects multiple rooms, or an entire dwelling. Architectural and structural changes as well as new electrical, plumbing and other mechanical elements are the foundation for a fully renovated space. Integrated technology and other features are considered during the budgeting phase of a renovation. From there, all new materials, surfaces, etc. are decided upon and planned between the client and their professional team of designer(s), general contractor, and architect.
The Look and Feel
After establishing your project type (remodel or renovation) we will discuss your desired outcome for your new kitchen. If you are remodeling, take a few photos, and if possible, overall measurements to make the most of your time. From there we will ask typical questions, such as:
– Would you like to expand the kitchen area into an adjacent room (if possible)?
– What elements do you desire in your new kitchen? (Specific appliances, technology, under-cabinet/interior cabinet lighting, larger sink, etc.)
– What do you like about your current kitchen, or, is there a kitchen design or features you would like to emulate in your new design?
– What are the challenges within your current kitchen? (Such as traffic flow, functionality, or storage restraints.) 
From there, we'll discuss the latest trends, technology and materials available for your kitchen. Your Designer will guide you through MCKB's options for cabinetry (styles/finishes/materials), counters, fixtures and more. If you have photos or magazines of your favorite things, be sure to share those as well. 
Establish a Budget 
Though this is not the first step in the process, it truly is of equal importance. Establishing your budget allows us to align products, materials and services to best fit your needs. Purchasing a kitchen can be compared to purchasing a vehicle: Once you have determined the class and make of the vehicle that best fits your budget, you refine your selection to a model, and then on to specific features. The model and features you desire need to match the budget you establish. Because we are a full-service design-build company, we are able to give you ballpark estimate on your project during your consultation.
Establish Timelines
Finally, we will review a schedule to give you an idea of when we can start, and how long you can expect the project to last before completion. We manage the entire project from design to ordering to installation, and work with you and any other design/contracting parties involved. We also offer in-house general contracting services which are available upon request.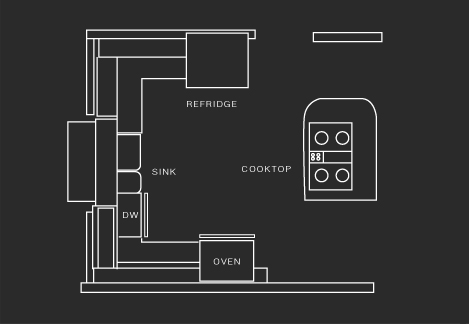 Island
Island kitchens are usually found in larger kitchens although smaller kitchens with connecting dining or family rooms can be converted into island kitchens. These kitchens are usually U-shape or L-shape with an Island in the middle. Islands in the past were usually made up of cabinets but many of today's islands contain cook tops, sinks and or under counter refrigeration.
U-Shape
U-shaped kitchens are ideal for people that use their kitchens frequently. In this kitchen shape, cabinets and appliances are arranged along 3 adjoining walls that form a U-shape. These kitchens are the most efficient and flexible and offer the most work-top and storage space. If a dining room or family room is connected, one part of the U can be converted into a peninsula or Island.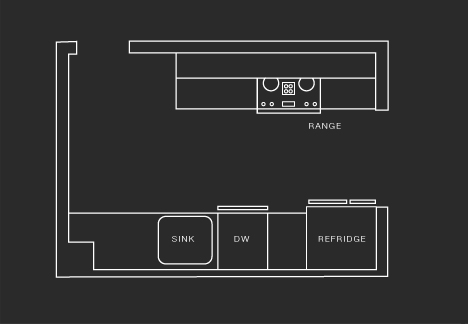 Galley
Galley kitchens make the best use of small spaces and are popular in Manhattan homes. These kitchens, also sometimes called Pullman or corridor kitchens typically consist of cabinets and appliances being situated along opposite facing walls. Space is usually limited in these kitchens so you'll want to plan for as much work-top space and creative storage solutions as possible.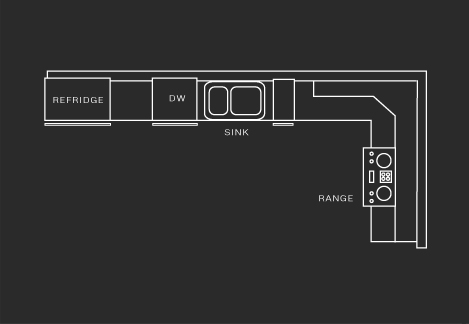 L-Shape
L-shape kitchens have a practical, flexible and open floor plan. All appliances are on 2 connecting walls that form an L-shape. What makes them so flexible is that appliances can be placed in a variety of locations while keeping work areas close to one another. The corner part of the L-shape creates a large area that is ideal for storage. L-shape kitchens can also be converted into U-shape or Island kitchens to provide a functional transition from one room to the next.